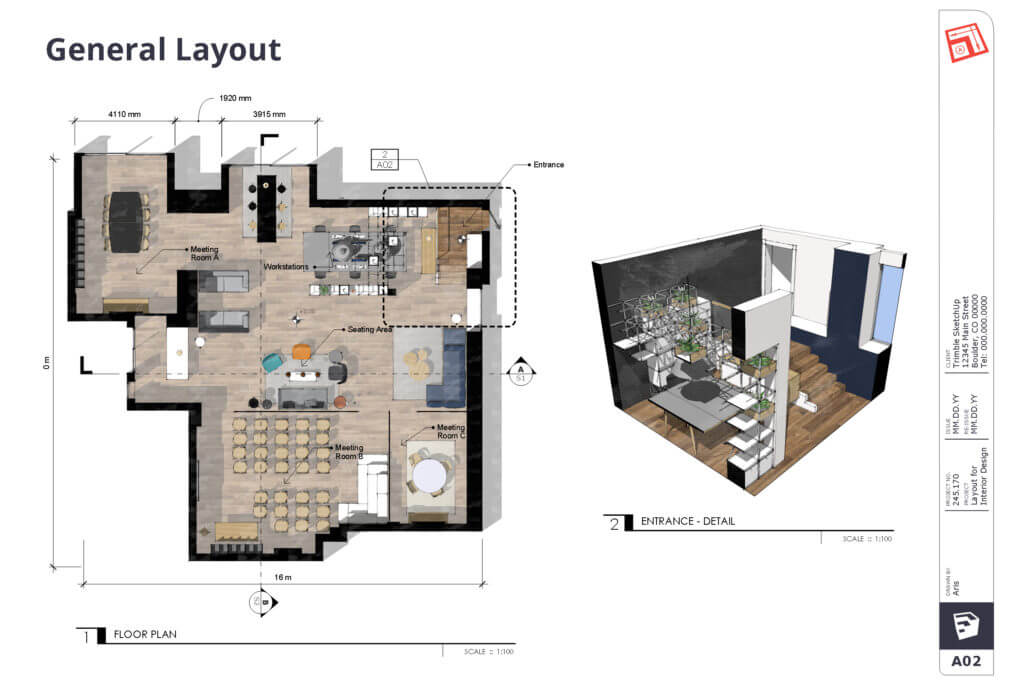 What is SketchUp Layout - An Overview
LayOut takes your 3D model into 2D space; it's the tool for creating documentation from your SketchUp model as a 3D to 2D converter. You start in SketchUp, draw your project and create scenes to show the different views. then you can send the file to LayOut, add dimensions, labels, other text, photos, or whatever else you need to help communicate your project.
When you're working with multiple SketchUp model viewports in Layout, you can add corresponding scenes in your SketchUp model. So, if there's a particular camera angle you want to use in LayOut, it'll save you time in the long run to open the model in SketchUp and create a scene with the view you want.
Follow these steps to associate a scene you've created in SketchUp with a model viewport in an existing LayOut file.
LayOut brings the "feel" of SketchUp 2D drawings into 2D space in an incomparably beautiful way. Line work, shadows, textures, text, dimensions, title blocks: all exactly the way you want. Annotations allow both you and the client to communicate confidently to push the project forwards, 
Intuitive vector drawings
LayOut's drawing tools are just like SketchUp's: simple, smart, and fun. And everything you draw is vector smart so you have infinite resolution and smooth crisp lines. Scaling and rotating can be done with the utmost precision
Dimension, detail, explain
Use dimensioning tools that snap to the edges of SketchUp models and quickly set the format, scale, and precision of displayed measurements.
Can LayOut for SketchUp be used on iPad?
LayOut is available for Windows 10 and Mac Whilst you can't edit your Layout documents on an iPad, Layout easily allows you to export both images and PDF files, which you can view on an iPad ready to whip out of your bag for impressing clients. For 3D SketchUp models, the SketchUp Viewer allows you to navigate, rotate and view models in AR and VR. Grab SketchUp Viewer from the App store.
Who uses Layout?
Whether they are Architects, Interior Designers, Set designers, Landscape gardeners or furniture makers, Professionals all over the world use Layout to dimension, document and present their work.
Is SketchUp LayOut free?
LayOut is part of SketchUp Pro subscription and will be installed when you install SketchUp Pro for Windows and Mac
What is SketchUp layout used for?
LayOut is the tool for creating documentation from your SketchUp model. You start in 3D in SketchUp, create the best views of your model or the details you wish to present. You can then arrange either a presentation board for printing or as a digital presentation. Add text, images, dimensions and more. The best thing is, if you need to make a change to your 3D model, LayOut will automatically update. This is great for creating revisions from client, whether you are an interior designer, Architecture or Landscape Designer.
How do you make a floor plan in Layout for Sketchup?
Simple, here is one way! Draw your floorplan (or even better a whole 3D room) in SketchUp. Set the camera view to "Top" and to "Parallel Projection". Create a new scene and name it. Click the Send to Layout Button in the toolbar and your Sketchup Model will come through as if it is an image, position, scale and crop the viewport on screen.